The trials and tribulations of buying a 1977 Moody 39CC and moving from a desk job and into the cruising lifestyle – or "Welcome to my mid-life crisis", as I like to say 🙂
---
"One doesn't discover new lands without consenting to lose sight, for a very long time, of the shore"

André Gide
---
One thing is for certain; I had lost sight of my reason for living for a long time. I'd had a failed marriage, my business was about to collapse (some would say it never really ever got off the ground), my physical and mental health was in decline, and I was still struggling to come to terms with the death of my father at the age of 66 from lung cancer. One of my biggest regrets is not spending quality time with my parents, who had moved to the Isle of Man about the same time I moved to London to work at Demon Internet in 1995.
"We'll have plenty of time once I retire and you've grown your business", he said. Well, we never managed to get that time, sadly.
---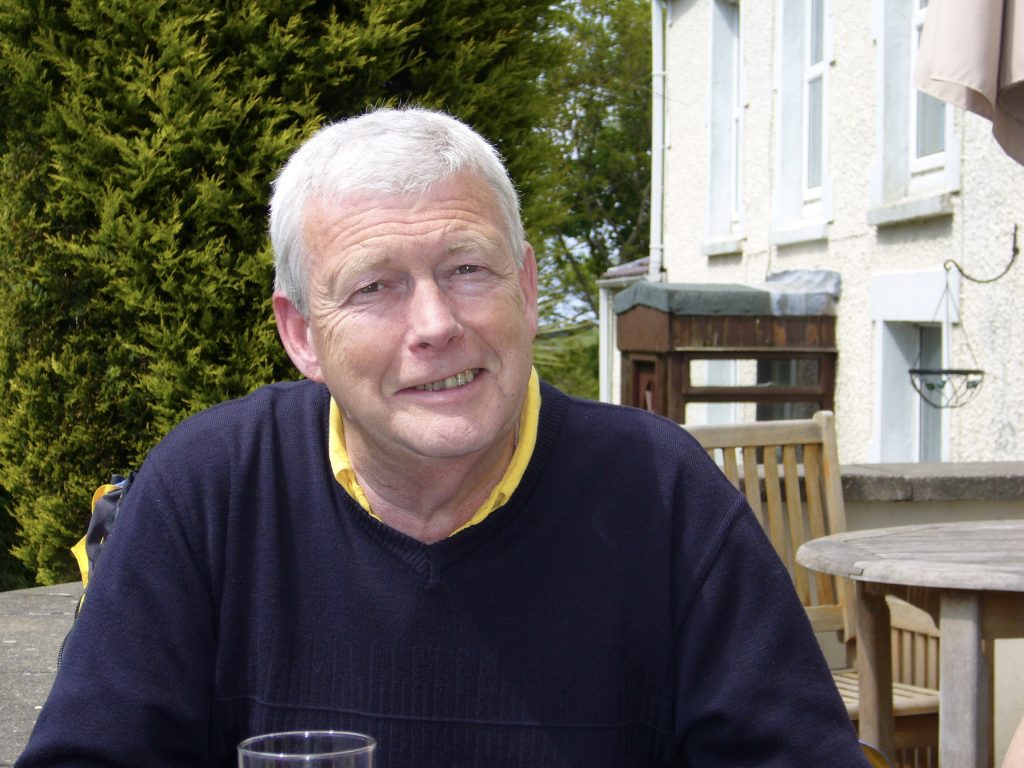 After my father died in 2013, I started spending more quality (guilt?) time with my mum, and we went travelling a little bit, as our schedules would allow. We would eventually go away for a month here and a few weeks there visiting Greece, Lanzarote, Mexico, South Africa, etc. I would sometimes go to the Isle of Man, or mum would come to London, and we would see a show in the West End (or whatever). We started to get to know each other again, and it was great! And then COVID and we've been unable to see each other for 18 months. Thank God for Skype and FaceTime!
---
Through all of this, it became apparent that I loved to travel and to explore countries like a local (not doing the mundane touristy bits). I had been travelling for work for years, but never really getting to see any of the places I visited. Running 14 companies in 9 Countries for a UK PLC, you see lots of airports and hotels, but very little of the actual country that you are in 🙁
Film School
To get me out of my funk, in 2017, I signed on to an HND in Filmmaking with Raindance in Trafalgar Square,
London. The course was for 2 years, from October 2017 through to August 2019. Graduation was supposedly March 2020, but COVID put a stop to that. I did graduate with a Distinction though! (all be it without the fanfare). We had made over 50 short films; most were classroom exercises, but 7 of them did make it into the Raindance Film Festival, and at least a couple ended up subsequently winning awards on the festival circuit. We even went to the Cannes Film Festival and experienced the delights of the French Riviera…
The following year, I vowed to return to Cannes in my own yacht; and host some of the students as they submitted their films to the various competitions in the festival.
By 2018, it was obvious that my heart wasn't in running Fido anymore, and I took the radical steps of effectively quitting my day job, finding someone with the will and strength (and time/gumption/faith) to turn the business around. I decided to make some big changes in my life.
Road to Yachtmaster
After a suitable handover period, I was free to follow my dreams. After a week in Zante in September and then most of December 2019 in Lanzarote with my mother, I flew to Gibraltar on 3rd Jan 2020 to start a FastTrack Yachtmaster course with Allabroad Sailing.
Things were going great guns, I was having the time of my life, I'd met some amazing people and I was losing weight! I had lost some 15kg and clothes that didn't fit me when I went out there were now falling off me!
Then COVID struck, and just 3 weeks before I was due to take the Yachtmaster exam, the world closed its borders. I opted to fly back to the UK to rescue the cat which I'd left with my neighbours (or is that rescue my neighbours from the cat?!) rather than risk the uncertainty of many months in Gibraltar being unable to leave as the pandemic took hold.
A year passed, and nothing much happened in my life. I had put an offer in on a 32-foot Westerley near Brighton, but that fell through when Boris announced the 1st nationwide lockdown and we couldn't get a surveyor anywhere near the boat. I spent months playing Elite: Dangerous and even bought a new PC, partly for Elite and primarily (I convinced myself) for video editing purposes (oddly, a year in, I've barely edited any video, but I have played nearly 1,000 hours of Elite)
By this stage, I really didn't know what I wanted to do with my life; and was going through some fairly dark times. I had been locked away for over a year, hiding from COVID, hiding from life. I had earned some money doing consultancy work remotely. Still, I hadn't made a film for over a year, the feature film I was going to write "when I had the time" had failed to materialise, and I had put on 25kg in the meantime sitting in front of a computer playing games and not getting any exercise.
I eventually managed to get the first COVID vaccine in March 2021, which gave me a bit of a mental boost, and I started to venture out again. The world was a different place, but slowly getting back to normal, and I too was starting to feel more like my old self again – and this is when the sailing bug came back with a vengeance, and I desperately felt the need to get out/on/near water. I started calling around to sailing schools trying to book refresher courses, mile builder courses, anything just so I could get back onto a boat and do some "recognisable" miles for my logbook, but the schools were all mothballed; they weren't sure when they were going to be able to operate again and at that stage I knew, I just knew, that I needed to buy a boat and go do it myself.
Mid Life Crisis in full swing
To make matters worse, I had now turned 50 (May 2021). The mid-life crisis was well and truly upon me!
When I was 25 I bought a sports car, 30 I learned to fly, 35 I bought a plane, 40 I got married, 45 I got divorced (and had to sell the plane), so I guess it was only natural that by the time I was 50 I should be looking to buy a boat.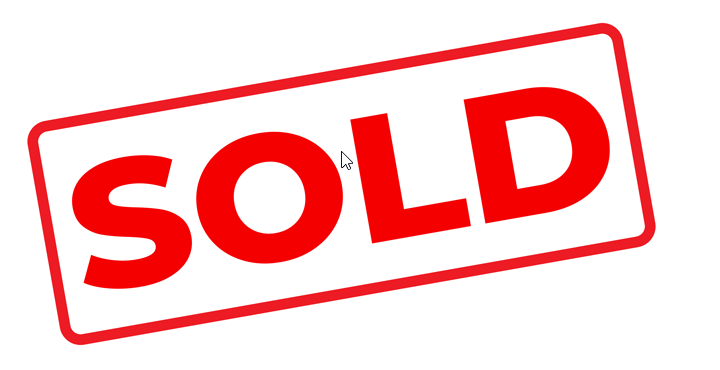 Every waking moment had ended up being either my watching YouTube sailing videos or searching online for boats. However, now the world was staying at home this summer, there were no boats for sale. Brokers were telling me that boats they took on at 9 am were being sold, above their asking price, by 3 pm the same day. It was a seller's market! I found a 32 foot Moody in Portland but couldn't view it as the brokerage that had just listed it was closed due to a COVID outbreak. Subsequently, it seems the boat has sold 2 or 3 times, but the buyers have dropped out; I've not as yet been able to find out why, though.
Whilst waiting for the brokerage to re-open and re-arrange the viewing, I stumbled across a Facebook marketplace listing for a 1977 Moody 39CC. I had wanted a 38-40′ boat (or even a 50′ boat), but they were out of my price bracket. I did not have £100k to spend on a boat, and even the cheapest I had found was £75k and they pretty much all needed the rigging replacing and other work, so add £15k to the price (as a minimum) for repairs.
The find (of the century?)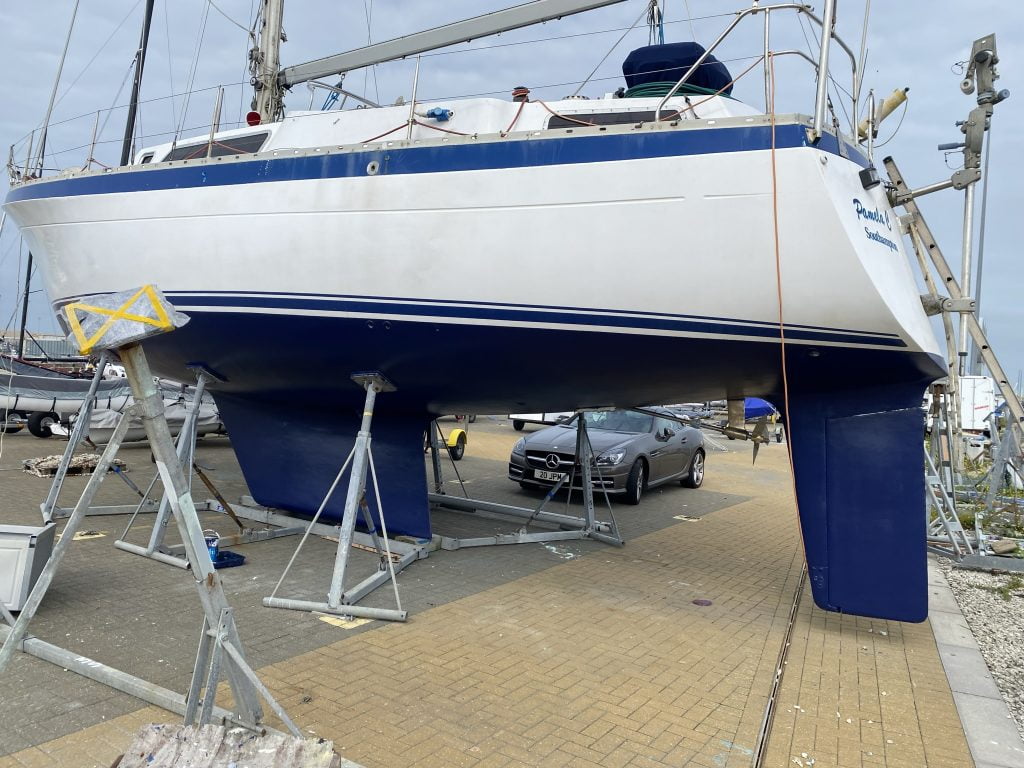 Pamela C was listed at £25,000. I could afford that .. barely. She probably needed new rigging, but the sails seemed in good condition, the boat itself seemed sound, and the guy selling her was amenable. He had apparently already sold her once, but the buyer backed out when he realised that, post-Brexit, he would have to pay VAT on her to get her into Ireland, where he lived.
I engaged a local firm of surveyors, and they found a few minor issues, no show-stoppers (sadly, they missed the issues with the mast, which has cost me about £2,000 more than budgeted so far). Still, they did find enough for me to get £2,000 off the list price and get the vendor to include about £2,000 worth of items that he was trying very hard to unscrew and remove before I saw them. (AIS, Hydrovane wind vane, courtesy flags, etc.).
Now the real work begins!
So that was it, I had, all of a sudden bought a boat! Now the hard work begins, cleaning, sanding, painting, repairing and then learning to sail her. The last bit is the biggest challenge. I have never single-handed a boat this large, and I'm not 100% certain where all the bits of rope go either .. this is, of course, harder to envisage when the boat has no sails, no boom, no mast and no rigging. This, however, is a story for next time!