So, this week was somewhat eventful! The Plan Having decided to move Pamela C back to Portland for the new sailing season, and with my upcoming surgery rescheduled to April 18th (and likely to move
So, this week was somewhat eventful!
The Plan
Having decided to move Pamela C back to Portland for the new sailing season, and with my upcoming surgery rescheduled to April 18th (and likely to move again with looming NHS Junior Doctor strikes) the weather forecast looked good, so I decided to make a weekend of it.
I headed down to Gosport on Friday afternoon and set about preparing Pamela for sea. It had been six months since she had sailed and checks were needed, as was cleaning.
I did the best I could to clean her inside and out and performed engine checks, all looked good.
Saturday morning came and the forecast light winds and dry conditions failed to materialise. By 2pm it was clear that the forecasts were optimistic, and I decided to bunker down and get on with some admin work.
Sunday morning arrived and was looking much better. Still a little wind but that's what we want isn't it?! (After all, we are a sailboat!)
Getting Fuel
First stop was the fuel berth at MDL Gosport Marina. I got there and there was a yacht taking up the first half of the berth, but enough room for us to squeeze alongside. The wind did most of the work and we were soon alongside. The chap who was there before me said he was on the wrong pumps and wanted the diesel pumps but the hose wouldn't reach to his yacht – but he and his wife did catch my lines and helped me tie up.
I refuelled fairly quickly, 100 litres or so costing £163 and then set about casting off. The wind had picked up a little and was blowing us onto the pontoon. I decided that I would spring off, almost turning the boat through 90 degrees and explained this to the chap who was adamant that I needed to move off and he wasn't going to cast off go around and come in once I'd left (this had been my preferred path as he was after all there first and in my way).
Having explained the spring technique to him, I boarded, we cast off all but the stern line, helm hard over and engage the throttle. We were starting to turn and the bow was coming around nicely. Next thing I know the chap on the pontoon shouts "ok I'm going to let you go now" and promptly releases the line, all whilst I'm shouting "no, not yet!".
Needless to say, it was a close call as we really weren't far enough round. Thankfully we ended up fender to fender so there was no damage to either side.
Setting Sail
After that excitement I headed out towards the swashway and programmed the chartplotter for Swanage.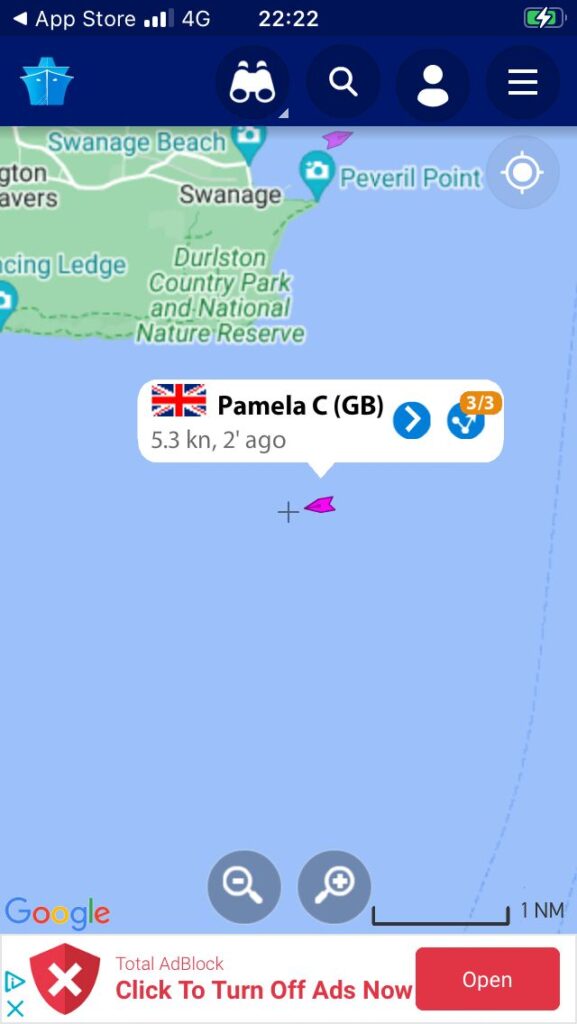 This was also to be the first test of the new autopilot, installed at great expense in December / January (Nearly £8,000 including the Zeus 3S, NAC-3, DD15, fibreglassing, push rod and more!)
I am pleased to say that the autopilot worked an absolute charm and is probably worth the vast expense purely for the total peace of mind!
Off we set towards Swanage, all be it two hours later than planned because of fuel pontoon shenanigans and other delays, which meant that we had 2 hours of a foul tide, which added 4 hours to the expected journey time. Can't be helped!
Shortly after 16:00 I noticed a tear in the headsail. This was new. I decided to furl the headsail away and continue on just the main sail. We wouldn't go as fast, but I'd rather keep the damage to a minimum if I can.
One plan had been to pick up a mooring buoy at Swanage before dark. Sadly due to the delays, it was now going to be 21:30 and not 18:00 when we got to the buoy, and I really didn't fancy messing around picking up a buoy in the dark .. so I decided to just continue on towards Portland. By this stage the wind had died down (as forecast) so I put the engine on. We were making 4-5 knots so there wasn't that much tide against us.
That's torn it
As it started to get dark, it also started to get cold. I decided to go down below, keeping a good eye on the AIS and pop my head up periodically to look for traffic. There was no way I could spot fishing pots in the water despite there being 3/4 moonlight, although overcast, so I figured it better to stay down below in the warm for most of the journey.
Losing My Cool!
It was shortly after passing Old Harry Rocks, probably about 23:00 that the engine shut down. No warnings, it just coughed and stopped. I thought maybe a clogged fuel line. I turned the ignition key off and then went back down below and opened the engine compartment to see what was what. This is when I was greeted with what looked like smoke, and a loud hissing sound! Oh God! What know?!
It was obvious that the engine needed proper attention, and as the wind had started to pick up I thought "oh well, sail into Portland Harbour and then get a tow". There then followed 3 hours of some amazingly wonderful sailing. Straight to the East Ships entrance and through, at which stage the wind dropped and we were doing 2-3 knots – I could probably sail this onto a pontoon – who needs a tow!
A Warm Welcome!
I continue to sail towards the marina entrance and am greeted by a text message from the duty officer (Steve) at the marina and then, shortly afterwards, a radio call welcoming me back. I filled Steve in on my predicament and as a tow was out of the question at 2 am we agreed that sailing in was probably the best bet. Steve agreed to head down to the pontoon and be ready for me.
It was at this stage that the wind started to pick up, 10 – 15 knots, then 20 knots .. we were now doing 6.5 knots through the water just on the main sail!
Steve called back on the radio to say it was too dicey to sail in, the only available berths were in the wrong orientation and I would be blown off. It was too dangerous. Best to drop the anchor and await daylight and a rescue tow.
I agreed, and set about trying to find a relatively sheltered spot inside the harbour where I could drop the anchor. This wasn't as easy as it sounds. I sailed around the outer harbour for nearly an hour trying to find somewhere suitable (both safe from commercial traffic and sheltered from the gale). The wind was over 20 knots and every time I turned into the wind and went forward to start to deploy the anchor we were blown around (off axis) and in towards the shallows.
Getting Windy Again
It hadn't helped that I mistook the white lights marking a sandbar for the lights marking out the "preferred channel". In the end I managed to drop the anchor and drop the main sail, but we had drifted quote close to the sand bar. The tide was coming in (all be it only 1 metre) and we were anchored. It was 3am. I was tired, but I still sat up for an hour watching transits. We seemed secure. The anchor seemed set.
It was at this stage (03:00) that I called SeaStart. They advertise a 24×7 service, with a tow to a safe refuge if they can't get you going. They were sadly unable to get anyone to me before 9am as they didn't consider it to be an emergency. I indicated that we were anchored but not secure and that there was a risk of damage, however 9am was the earliest they could manage.
I asked the marina again, but they said 8am was the earliest they could get a 2 man crew out to tow me.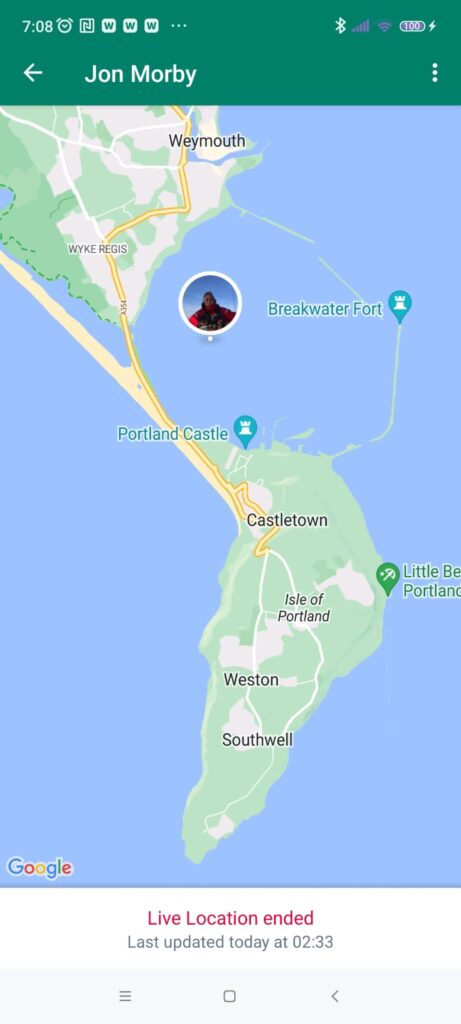 Time for some sleep
Having sat watching transits and making sure we were secure, I went to get my head down at 4am, and dozed off pretty quickly.
Rude Awakening!
04:15 I am awoken by a loud bang! I rush up onto deck to find that we are now alongside pylons at the Ferry Bridge boatyard. We must have been caught by a huge gust which caused the anchor to drag and also the boat to lean to get over the sand bar. How we didn't get blown onto the bridge itself (which would have resulted in a dismasting and the boat probably being written off) I will never know, but there was definitely a guardian angel watching out for us that night!
Realising where we were, I quickly secured the boat to the pylons in case we were to drift again. We were in 2.5m of water and "safe".
The boat was rubbing against the pylons, which was causing some minor damage to the rubbing strip, but otherwise, we were safe.
I called SeaStart again for help, I need a tow now before we lose the 1.66m tide. They were unable to assist and told me to call the Coastguard. #fml
---
Coastguard Please
04:55 I dial 999 ask for the Coastguard and explain my plight. The call lasted less than 2 minutes, they barely asked me any questions – they just listened – and then said "so how close to Billy Winters are you" .. I was gobsmacked and amazed, local knowledge! (I'd not said anything about Billy Winters, just that I was near Ferry Bridge). I explained I was "by the boat yard" and he said right – I'm sending the Coastguard Rescue and also the inshore lifeboat. Call me back if things get worse.
05:15 – Coastguard rescue were on station, blue flashing lights on the bridge and they were trying to find a way down to me to render assistance.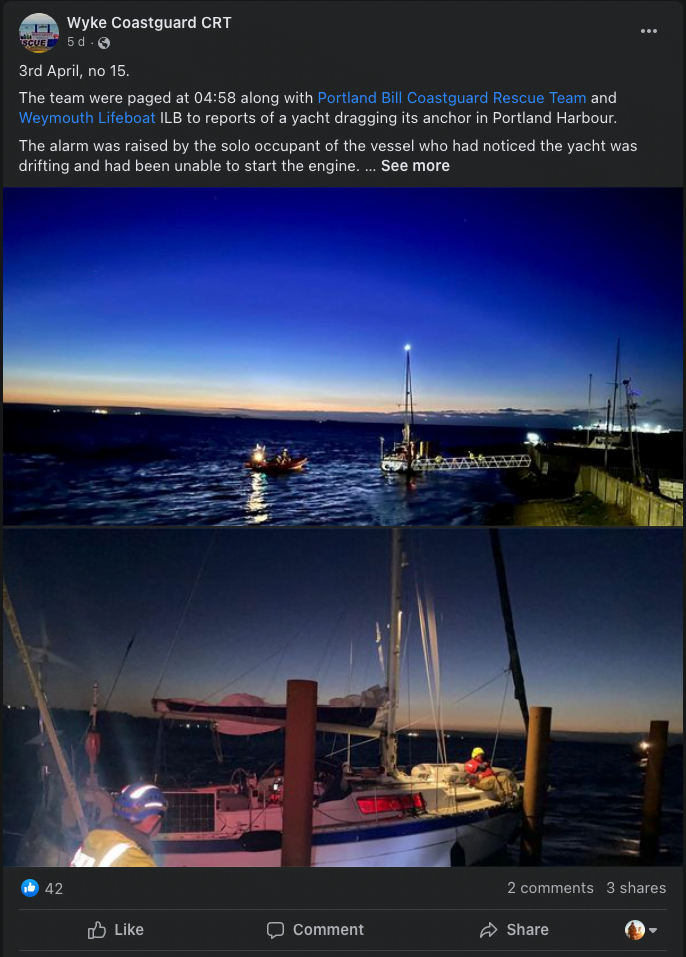 05:35 – Inshore lifeboat on station and they're doing depth soundings of the area. They're not happy with the depth and say they can't tow me out. I need to get a commercial salvage company on the case in the morning, but they will help me secure the boat (which involved dropping back slightly so I could get on/off the boat via a gangway if necessary) and they came onboard to have a look at the engine. They agreed it wasn't going to be something that could be easily repaired. After spending a few minutes trying to persuade me to abandon ship, which I made clear I was not about to do, they made safe, took some photos and then went back to base.
The Light of Day
It was now gone 6am and daylight was upon us. A few phone calls were received from friends wanting to check up on me and making suggestions for getting her out at the next high water (18:00)
08:30 and the Portland Marina team (Haydn and Paul) arrive in their workboat. We have a brief chat and they work out a plan to get Pamela C away from the pylons and out towards the sandbar. Once on the sand bar we put the headsail up and get the boat onto as tight a lean as we can, at which stage we glide over the sand bar and out into the main marina! Once under our own power, Haydn (who's driving the workboat) lets go of the tow line and I recover to Pamela C while Paul sails us back towards the marina. We then hove to and Haydn sets up to push us back into our berth. By 09:20 Pamela is "home", and tied up.
I had been awake for more hours than I care to calculate but don't have much time before I am due to start work. I have a quick shower and get ready for the first call of the day, a catch up with the CEO/Owner of the business to discuss (I thought) next steps with a major partner and their software roll-out.
From Bad to Worse?
The call starts with "I'm sorry Jon, but we're going to have to let you go. It isn't working out" .. and with that I was "fired". Still no explanation, no warnings after 9 months – just a "I personally like you and I had been looking forward to great things, but you're not fitting in with the team".
Oh well, I guess it means I will have the summer to go sailing now after all!
What a week, and it was only Monday!
Finally, Some Good News!
Shortly after that call I then received a call from the hospital. I was scheduled for surgery on April 18th although I have been expecting that date to change due to upcoming NHS strike action. They say "We've had a cancellation tomorrow, would you like to have your surgery on April 4th instead?" – I jumped at this good news and then had to get back to Watford, via Portsmouth and Gosport to collect my car. I think I had been awake for nearly 30 hours by the time I actually got home and went to bed.
So Grateful!
Throughout all of this, the Coastguard, the RNLI and the staff at Boatfolk Portland Marina were excellent. I am truly grateful for the assistance and re-assurances they gave through the night. At no point did I feel helpless, there was always a plan and a way forward. The RNLI do an amazing job and are all volunteers selflessly putting themselves in harms way to help others. Thank you to the guys (and girls!) for coming to my rescue.